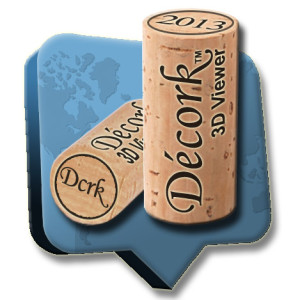 Décork™ 3D Viewer is the official app for mobile devices from Décork™, the cork stopper laser marking systems and services.
Décork™ 3D Viewer is a free* electronic messaging B2B service adapted to cork stopper manufacturers and their customers (wineries), user-friendly for mobile devices that lets you view and share at any time and place 3D simulations of cork stoppers of different formats, sizes and surface finishes, as well as examples of laser marking available for them. Simplify sending samples and their preparation tasks thanks to this powerful tool thought for proposal quick review . Share your proposals seamlessly with other partners or customers through mobile devices or web. Easily access from web browsers to 3D simulations with the free and supplementary Décork™ 3D Viewer web application.
(*) Click the following link to access the
3D image gallery
See
Open 3D DCRK links uploaded to your free* online account for Décork™ 3D Viewer.
Load and open files on your device directly from the email.
Select, move and rotate cork stoppers with precision, manually or automatically, by using the touch screen of your device.
Review all aspects of your DCRK files such as format, size, quality, orientation, the distribution or size of its laser marking, and the look of the cork stopper in general.
Use the automatic or manual rotation functions to easily navigate around the 3D simulations .
Use the messaging system to send Décork™ 3D Viewer 3D images with messages attached to your partners and customers.
Share
Validate and respond to the proposals sent from your partners or suppliers directly from your mobile device.
Share your DCRK designs via email.
Décork™ 3D Viewer can be used and downloaded free of charge*. Subscription to 3D Décork™ Generator let you get more out of the application with the following advantages :
Creating new proposals 3D
3D submission of proposals and messaging to your partners and customers for agile acceptance of orders
Administration of previously created designs
Storage of already created proposals
Administration of contact information you would like to display in your posts
Subscription to 3D Décork™ Generator has the following options:
Annual subscription to Décork™ 3D Generator Basic
Annual subscription to Décork™ 3D Generator Pro
Subscriptions can be arranged by contacting the service provider. Your subscription will automatically renew unless you cancel it at least 24 hours before the end of the current period. You cannot cancel a subscription during the current period. You can manage your subscriptions in your Décork™ 3D Generator account settings after your purchase.
Version 1.4 offers a new user experience for viewing 3D samples of laser marked cork stoppers.
* Free products and services are subject to the terms of use of ON- LASER Systems & Applications SL that accompany them.
Terms of Use : http://www.on-laser.com/decork/terms_and_conditions/TCSD3DV.pdf
Privacy Policy: http://www.on-laser.com/decork/privacy/CGP.pdf
Décork 3D Viewer Image Gallery
Click this link to access the 3D image gallery and launch your newly installed Décork 3D Viewer App to view lots of sample corks with different images in 3D within your smartphone or tablet, or browse static images on with your web browser.
Enjoy it !!