Décork 3D Generator
New!! Décork 3D Viewer App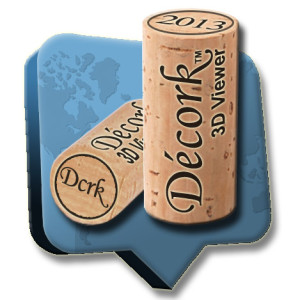 Décork™ 3D Viewer is the app for mobile devices and web browsers from Décork™, the cork stopper laser marking systems and services.
Décork™ 3D Viewer is a free electronic messaging B2B service adapted to cork stopper manufacturers and their customers (wineries), user-friendly for mobile devices that lets you view and share at any time and place 3D simulations of cork stoppers of different formats, sizes and surface finishes, as well as examples of laser marking available for them.
Simplify sending samples and their preparation tasks thanks to this powerful tool thought for proposal quick review .
Share your proposals seamlessly with other partners or customers through mobile devices or web.
Easily access from web browsers to 3D simulations with the free and supplementary Décork™ 3D Viewer web application.
+info
How can I get the App?
How do I view a 3D sample?
Once you have the App already installed in your smartphone/tablet, or have installed the plug-in in your web browser, get back to this page and click one of the sample links below:


Sample 1

Showing a shaded image (only possible with laser marking) in the body, and ends marking too.

Sample 2

Showing a French style frame in the body, and a highlt detailed "chateau" image. See also the associated message.

Sample 3

Note the detail of numbering the stopper, of interest for limited editions.


While viewing the sample in the App, orientate your smartphone / tablet to see it in a larger / smaller size, PAUSE the spining cork, drag the cork in any direction to explore all its sides, and PLAY to spin it again.